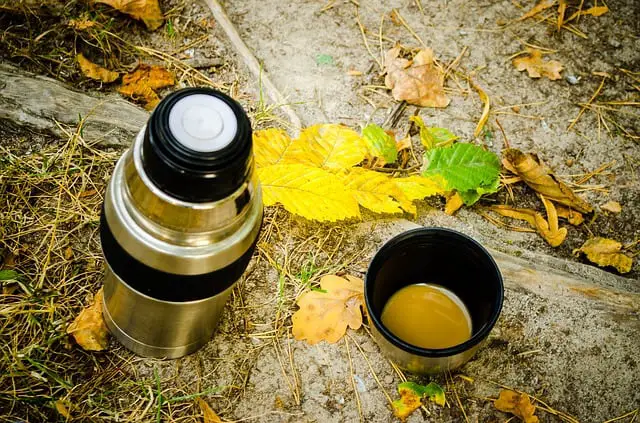 Mornings can be hectic. Between trying to get everything ready and yourself out the door in time for work, sometimes coffee has to wait for the drive in. It's times like these when a high-quality spill-proof travel mug can really shine and make the difference between a great day and one with a coffee stain down the front of your shirt. We conducted this Contigo thermos review to help you decide if the Contigo Luxe Autoseal travel mug lives up to its hype.
Comparison Table
Contigo Luxe AUTOSEAL Vacuum-Insulated Travel Mug
With stainless steel construction and a dishwasher safe one-piece lid, the Contigo Luxe AUTOSEAL Vacuum-Insulated Travel Mug is designed for the long haul. You will have peace of mind knowing that your Contigo Luxe AUTOSEAL Vacuum-Insulated travel mug is backed by a lifetime warranty against defects. Its sturdy design can withstand drops and tumbles without affecting the seals or locking design.
It has a stainless steel exterior for easy handling and a specially designed sealing lid that works with the touch of a button. So, go ahead, drop it into your briefcase as you walk into the office without fear that your laptop will emerge with a sticky coffee coating.
Whether you are looking to keep something hot or cold, the Contigo Luxe AUTOSEAL Vacuum-Insulated Travel Mug has you covered. It will keep 16 ounces of liquid hot for up to five hours and cold for up to 12. A nice bonus is that the exterior does not get too hot even when filled with fresh coffee or sweat when teeming with ice water.
Product Specs
Contigo upped their game with the Luxe AUTOSEAL Vacuum-Insulated Travel Mug. It is made from stainless steel wrapped in a non-slip silicone sleeve. The lid automatically seals and opens with the touch of a button, making it a truly one-handed travel mug.
A generous 16-ounce capacity means you'll have enough coffee to last all the way through your commute. Plus, since it keeps hot drinks hot for up to five hours, you can still have some left over for a mid-morning break.
The entire lid is designed as a single unit that is top-rack dishwasher safe. Simply open the lock, unscrew the lid, and drop it into the dishwasher to get even tough to reach parts clean. The mug itself is also top-rack dishwasher safe for easy clean up, although some people may prefer to wash it by hand.
Pricing
Travel mugs range in price depending on features and things like how long they will keep your beverages hot or cold. Any of the mugs in this Contigo thermos review are available for between around $ and $$. When you think of how many $5 coffees each one can replace, they quickly become a bargain even at the higher end of that price range.
Contigo Thermos Review: How It Compares
We picked a few similar products available on the market to see how they compare.
Contigo Luxe AUTOSEAL Vacuum-Insulated Travel Mug
Zojirushi SM-SC48 Stainless Mug
Zojirushi mugs are consistently rated as some of the best travel mugs available today. They utilize a special thermal technology that allows very good temperature regulation with a lightweight and thin-walled design. They will keep drinks hot or cold for up to six hours.
All inside surfaces of the SM-SC mugs have a non-stick coating so there is never a metallic taste even with acidic coffee drinks. It also makes cleaning the cup body a breeze. The lid comes apart so there are no hard to reach spots during cleaning.
CamelBak Forge 16oz Vacuum-Insulated Travel Mug
CamelBak created the Forge travel mug to do double duty. It works wonderfully as a travel mug for your daily commute but isn't afraid to slide into a bottle holder or even clip onto your backpack for a morning on the trail. It will keep 16 ounces of liquid hot for more than six hours, so you can enjoy a steaming cup of coffee once you crest the next ridge.
Thermos Sipp 16-Ounce Drink Bottle
If you want your coffee burn-the-inside-of-your-mouth hot, then the Thermos Sipp may be the perfect travel mug for you. All joking aside, this attractive mug retains heat better than most other mugs available. So, if it's going to be a while before you get to enjoy your coffee or you tend to add cold creamers, then this is a great choice.
It holds 16 ounces of liquid in a slender and stylish design. This mug fits well in most cupholders, and, despite its slim profile, it doesn't rattle as much as some other ones.
Conclusion
After carefully considering the models in this Contigo thermos review, our overall rating for the Contigo Luxe AUTOSEAL Vacuum-Insulated Travel Mug is 4.2 stars.
The Contigo Luxe AUTOSEAL Vacuum-Insulated Travel Mug is a solid choice for those looking for a long-lasting and well insulated travel mug. Of the four models in our Contigo thermos review, we feel confident that this one will keep your morning coffee securely contained whether in your cupholder or laptop case.